The PRoblem with state Provided healthcare
Whether the public health system in your country is amazing or useless is irrelevant in this post. The point is the right to choose. Even if a public service is good enough why should people be forced to pay for it? Surely if the service is great value and highly efficient people will line up and gladly pay for it?
Regulated products kill millions of people every year, having a licence is no guarantee that a holder will act honourably or lawfully.
Before I dive into the health system let me point out to the non-Irish that in Ireland we are required to own a television licence, that costs €160 per year…simply to own a television. This money goes to run state broadcasting, basically state propaganda that the country could do without, and it recently ran at a loss of €65m in 2012 so of course taxpayers make up that loss. Now many Irish people would openly state they resent being forced to pay for these stations, yet they don't state they resent paying for a disastrous health service. By the way, being found to not have a TV licence can result in imprisonment, like the 411 people who were imprisoned in 2013 for non-payment. Granted most of the time served was between hours and days but the processing time, energy and cost of this, from police to courts, judges, and lawyers is a ridiculous waste, what the state does best. The health service has been in the news most weeks for ten to fifteen years; it's a black hole where hundreds of millions of Euro has disappeared with little to show for it. There is no financial incentive to get value for every Euro that taxpayers are forced to put into it. The unspoken view of state services is clear: if the money and time are wasted more money can be taken from the taxpayers to keep the dysfunction rolling.
Remove state and medical association constraints and let the public choose, and let the doctors serve the patient.

Now if many people resent paying for state television, why are they not outraged about paying for dreadful state healthcare? One magic word – competition. Competition shines the light on how useless state services are. In the case of television we can look at the competition, see what it costs, see how many stations are on offer and choose the package that is most suitable. If there was no alternative to compare it to then how would we know the TV licence and state media were unnecessary? State television is facing competition, the public don't want it, but the state still demands we pay or get locked up. In comparison to public healthcare if the service was amazingly efficient, then it would have no problem facing private competition. You may say I cannot compare television to healthcare, but the rules are the same. One costs multiples of what the other costs and the risks are far higher. If I can't get a signal on state TV one night I can live with that. If I find myself in a public hospital sat on a trolley for three days waiting to be seen by a doctor, I don't consider that value for money. I don't want them to improve the service, I want them to allow competition and stop charging me for the useless service they are providing. 'Hmm but the healthcare market does have competition' you say. There are private hospitals, not many, so what's wrong with private healthcare? Licensing and regulation is what keeps the private market limited, a handful of private clinics that have to pay the state hugely for the privilege to do business. If you keep the licensing and regulation charges to private companies high enough, they'll have to charge high prices to patients to get the money back, and they'll have to target higher earners, who have the finances to not go near state healthcare. See what is happening here? Lower income earners are instantly priced out, so they are forced to rely on public healthcare and in turn support it and rant and complain about private without realising why private is so expensive. So the state monopoly has cleverly removed any affordable private competition many taxpayers, those who earn least, those who need to watch their money more than any others, those who if they knew what it was costing them every year to have this bad service would demand an alternative. Obviously free health care does not exist. People think its great they can go to the doctor for free, and then complain about the price of food and heating, without realising the amount of tax on every single item they buy is there to pay for the things such as 'free' healthcare.
the problem with state provided healthcare – It's A state monopoly
'no worries, it just needs more money, that'll fix it!'
In a free market, where anyone could set up as a doctor, let the public decide what service they want and from whom, and at what price they are prepared to pay. The immediate reaction from many would be 'we'd have all kinds of fools claiming they're doctors and selling all kinds of stuff as medicine'. You may well be right, initially, but any business only survives by providing value to customers. As soon as that value disappears they go out of business. This is the healthy cleansing the market provides. You cheat people or provide bad service, they'll take their money elsewhere and you suffer. Clean up your act and improve your service and you may survive. This obviously does not include public healthcare, the service can be dreadful for decades, costing the lives of millions, 'no worries, it just needs more money, that'll fix it!'
2min Trailer about free healthcare – Wait Till It's Free
Regulation and licensure are sold to the public as a means for the state to protect us, to stop dangerous traders or products entering the market. In reality many regulated products kill millions of people every year, having a licence is no guarantee that a holder will act honourably or lawfully. In many cases, such as healthcare, the licence means a doctor cannot provide the best service for his patient because if he recommends a treatment that is unregulated he will lose his licence to practise. So if a cure is unlicensed but the patient and doctor want it and this it the best treatment in their opinion, they must obey the state or face the consequences. A piece of paper will not stop a business from bad practises. A piece of paper is just a means for the state to: A. extract money and B. decide how many doctors for example can practise. The cost of the licence restricts many from setting up business too, limiting the choice for consumers. If more supermarkets and plumbers means cheaper food and plumbing, surely more doctors would equate to better value treatment? Yes it would, but that would disrupt the tightly controlled circles of medical boards who keep a tight rein on who and how many doctors practise, so as to keep the demand high, and the money they can charge higher. If there are ten billion apples, apples will be very cheap, if there are ten apples, they will become rare and coveted and highly expensive and sought after. If your county has ten thousand doctors setting up shop anywhere they can, then they will compete for business, prices will drop and quality of service will escalate to try to compete for patients. If there are only five doctors in your county, queues will form, prices will skyrocket and personal service will plummet.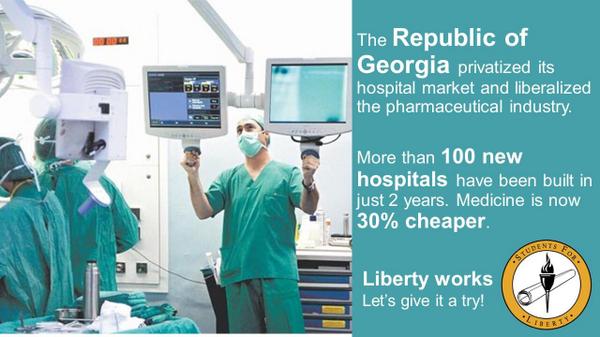 For more information about the Healthcare Reform In The Republic Of Georgia – click here for FREE 74 page pdf
I get frustrated when I hear people call out for better public healthcare. They only do it because they have no idea how inexpensive private healthcare and health insurance would be without state restrictions. They also have no idea how much they each pay through taxation to keep the dysfunctional health service afloat. If they knew that figure they might then want to question how much free market healthcare would cost. What about the poor? Well what if the care was so cheap even the poor could easily afford it? What if we dug into state figures (if we could find them) and saw that the poor were already paying X Euros per year for public, what if we it turned out that unrestricted private would cost half that? Would you then think it a good idea the poor are still forced to overpay for this dreadful service? Even if you are still loyal to public health care, I have no idea why you would be, but let's say you still believe in it, it would not do you, the poor, or anyone else any harm to push for free market health care, you never have to use it. You can ignore it, but your neighbour would have that choice if he or she wanted. Is that a free society? Is that a friendly society? To push for choice for all of us, not to push for all of us to live under the system you personally think best?
Consider how much of your medical charges go to the state on various taxes and then licensing fees and regulations.
How many doctors are in your area? What are the prices like? How many private hospitals do you know are near you? Are the prices extortionate? Maybe consider how much of their fees go to the state on various taxes and then licensing fees and regulations. If you think those damn doctors are greedy and earn too much, you know what would lower their fees? Free up the health care market, the more competition there is the more choice the patient has. Remove state and medical association constraints and let the public choose, and let the doctors serve the patient.
Please feel free to comment (comments do not require a sign in, and are anonymous), and share this post with others. I welcome any feedback. And please sign up to my newsletter.