When I first saw the image above over one year ago it really resonated with me. It was like a piece of the jigsaw. Let me explain.
In Initiation by Elisabeth Haich she mentioned that in these times we may be initiated, reminded, of who we are, via work "off planet", as opposed to the on planet Mystery Schools of the past.
A couple of years ago I spent some time with a breatharian who had not eaten or drank anything in a few years, she developed her light body to the extent that she is nurtured from both the sun and earth. She described to me how she would tune in to her teachers, off planet, and they would work together in developing her energy centres, this work went on for a number of hours each day, for years.
An increasing part of my work is with sexual energy, guiding people to face and integrate trauma they carry, to allow their energy to flow much freer through the chakras, to flush out the sexual trauma that is flowing through all of us, the collective, and our family lines. 
Only a few generations ago the world was a very different place, and depending what part of the world your ancestors or previous lives were based, you would have experienced and witnessed some very heavy violence and sexual trauma. This is natural in the sense that this violence happens, everywhere, it is up to us to acknowledge it within ourselves, even if we have not encountered it in this lifetime, or don't feel it, just simply to be aware of the possibility. 
When we venture into the body, the womb, the cervix, the yoni, the shaft of the penis, the touch of our skin, we encounter frequency, of previous experiences, perhaps drunken experiences, teenage, pornography, grabby partners who didnt know what they were doing. All the energetic memories are recorded here, and as we begin work with our sexual flow, these pieces get flushed out, which is liberating and freeing and pleasurable on a heightened level, but also we encounter the trauma, the energetic memory. We don't relive the actual experience, although we may if we don't integrate and heal, this is why people seem to find themselves in patterns of relationships that repeat, but we do have to re-face the frequency of the experience. 
During ayahuasca journeys I realised that the medicine began off planet work for me. Finding myself in various ships, surrounded by different beings, knowing deeply they were my tribe. I almost felt like a car in a garage surrounded by mechanics who were fine tuning me, as it is the human that needs upgrading to facilitate the expansion of spirit in this costume, this vehicle. 
Post continues below image.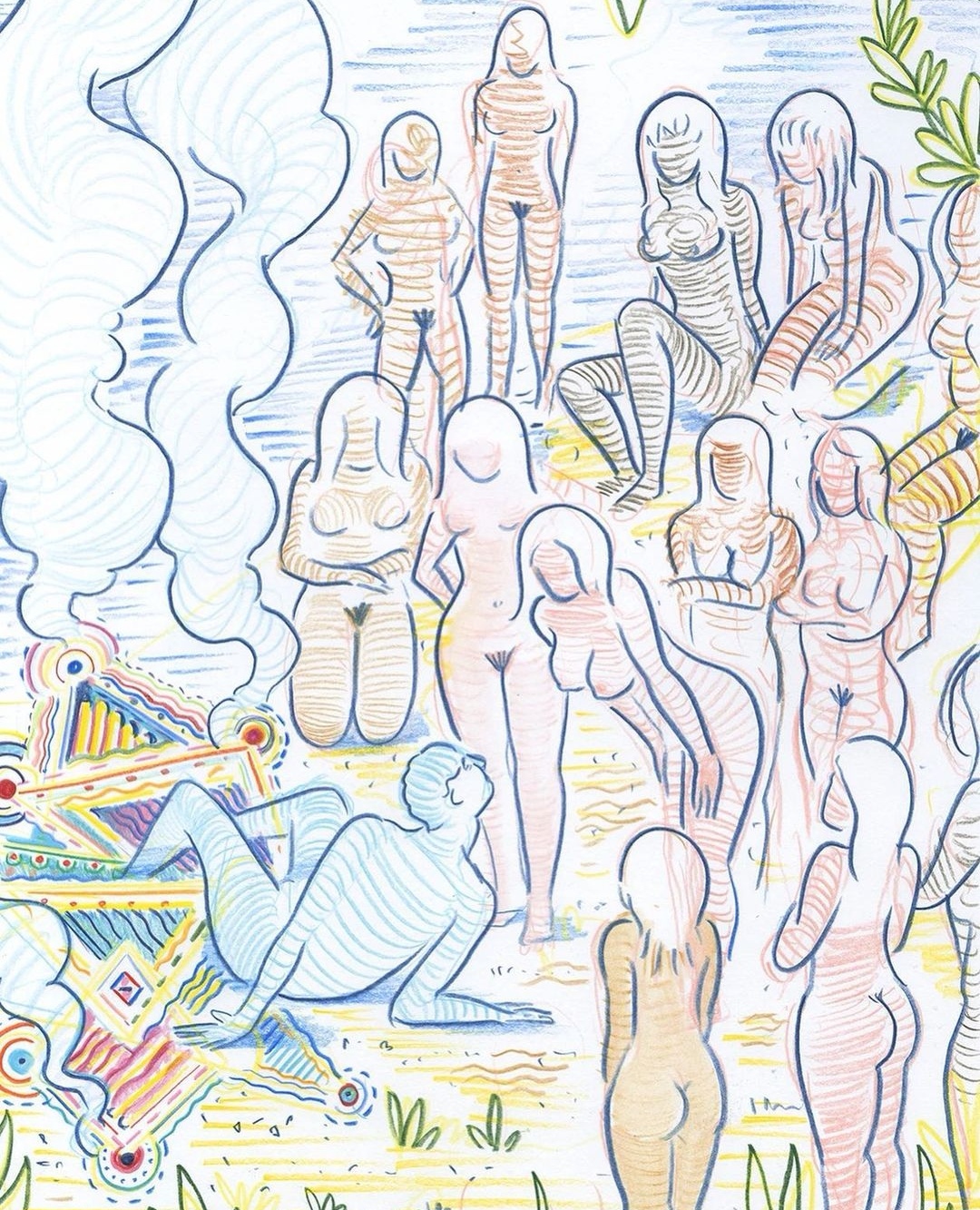 But outside of medicine work I have had many experiences simply in meditation when I would be aware of a deeper shift, in the past year this would often become my perineum locking, think kegel exercises, the muscle we use to not pee. The pelvic floor muscles would lock, energy spool up and then be released up through the core, at times focusing on various chakras, or flowing all the way up. I never intended any of this work consciously, I did not try to steer, it, I merely facilitated it. A number of times when working with cannabis I have encountered women I know, in the journey (not in real life), who have straddled me, often naked and made love to me energetically. To be clear there was no self pleasure during these times, no erection, this was purely an internal energetic experience. With these women who were presented my role was to continually open my heart and whole body to them, and to allow the flow between the two of us. These were highly intimate experiences, having various degrees of full body orgasms, heart orgasms and the like (no erection or ejaculation). My understanding is the union of my own energy with the energy of these women, beings, was off planet work in a sense. We met in an energetic space, a temple of sorts on another plane. Not physically but energetically. I trust this process, I trust that it is purposeful as the work takes me further along the path of intimacy and of further integrating and raising my own sexual energy, out of the genitals, to be flushed through the heart.
Often once the energy began to flow strongly through me the women would disappear, it's like her presence was to excite me, to ignite that flow and then I could continue to focus and flow on my own.
Post continues below image.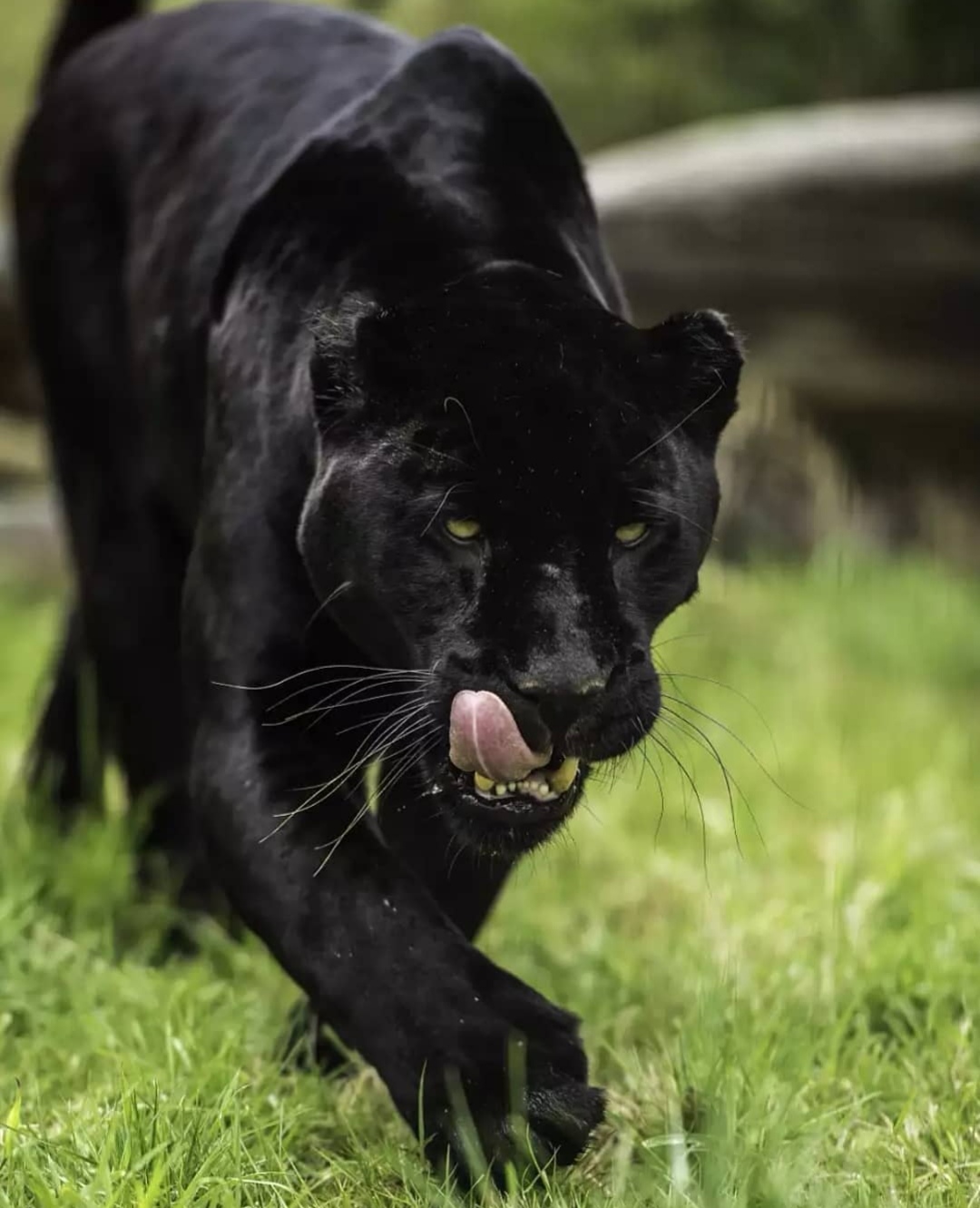 So in a way I've felt for the past year or so that I am living that first image above. The feminine is presented to me, there is a relearning of pleasure, of presence and openness. To engage with my own sexual energy as an opportunity to go further, integrate it and bring that growth from the off planet world into my own physical world. The jaguar/black panther in the tree too grabs me, the jaguar has shown up for me many times in the past year. If you have seen Apocalypto you'll remember Jaguar Paw and his hero's journey to being reborn, becoming a man. The black panther has been considered the lord of the Underworld and "represents the ability to embrace darkness, navigate it, and conquer your fears–of the dark, of death, of the unseen and unknown." The women in the image wear cat masks, are they initiating this man into his sexual awakening? Remember any initiation requires tests and the integration and moving through the Underworld in order to be clearer, freer, lighter on the other side.
My journey's over the past year were not sexual fantasies, the sight, vision, and energetic awareness is very different to a sexual fantasy, such as the mind seeking images and roleplay to further bodily pleasure. These experiences are more organic, they flow through me, they are presented to me, rather than me creating them.
Post continues below image.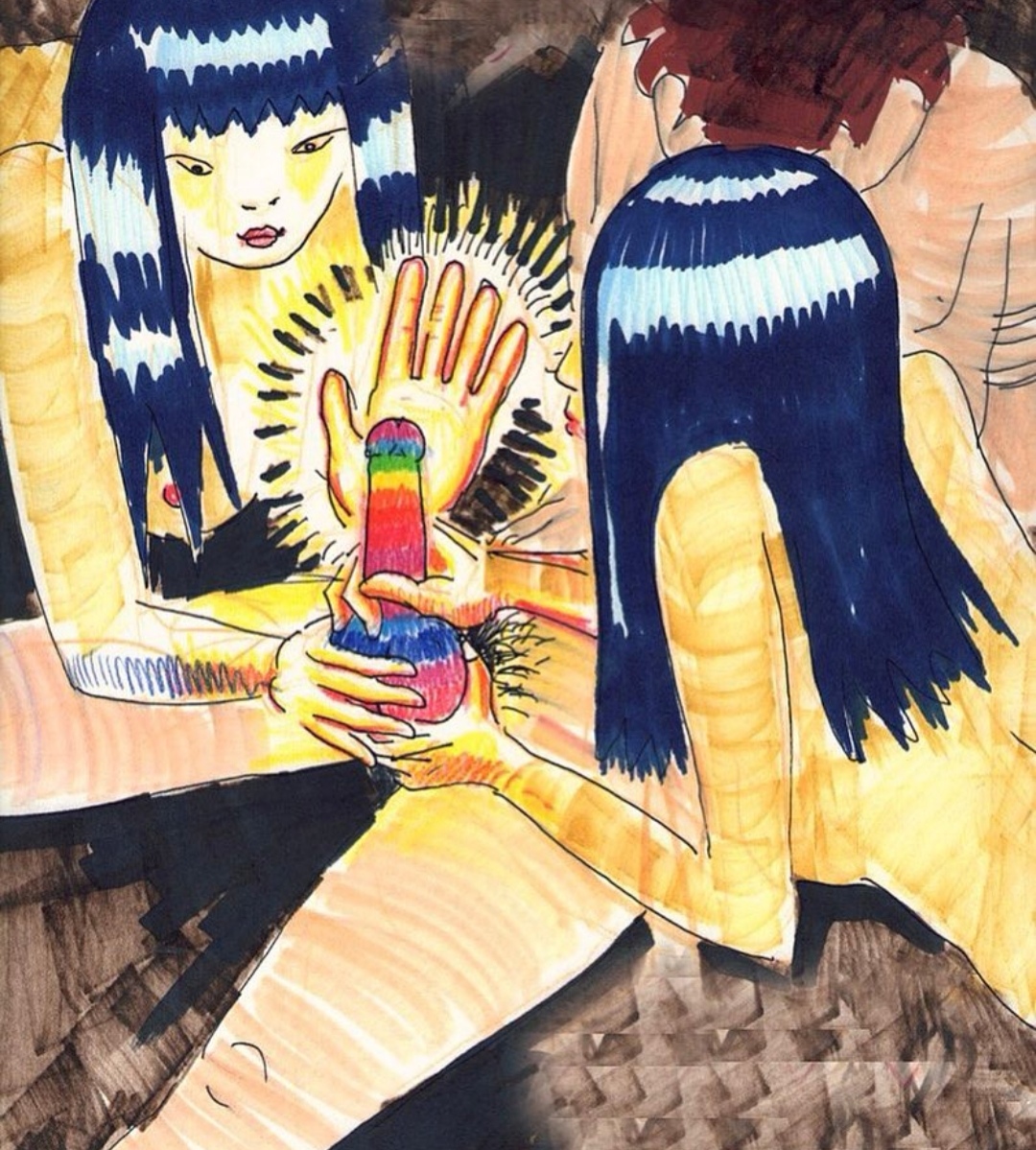 We are healing the violence on this planet, the many generations of sexual abuse that we all have been a part of, both as victims and perpetrators, yes we all play both sides in order to gain the entirety of the energetic experience. This is a natural evolution of each of our beings, to fully embody all aspects of consciousness, and gain the wisdom and expansion on the other side. Right now we are in a time of completion for many of these "lower" chapters. 
There is plenty of tantra work out there, which rarely resonates with me, one layer seems to just be about having great sex which feels a bit superficial to me, a second layer is about developing great sex on a foundation of open heartedness and presence, which is wonderful. But a further deeper level, and a level I find myself on seems to be both of the above paths, plus encountering the frequencies of violence and abuse that flows between all of us, we all swim in this pool of consciousness. Those who feel moved to work with me often also find themselves encountering these energies in dreams or perhaps visions or memories which we work through, integrate, raising our own frequency and thus those around us too.
I feel this work is extremely important for those who find themselves on this path. We are integrating and healing these layers so as not to pass them on to our children, the so called indigo children. Most people who come to work with me often have young children who are about to awaken, wise souls, and the child's expansion is related to the parents willingness to integrate their own baggage. As the parent continually integrates and expands, that new blossoming frequency is the key that activates the children. So if we want to change the world, we truly must face and change ourselves, embrace and work with what is presented within us. I guarantee you will notice the shifts in your children and those around you as you face You. 
If you feel ready and feel the call, get in touch with me. I teach an 8 week Shadow Integration Course, find details about it here, where I coach you one on one and teach you how to meet your Self and integrate those pieces of you that are still causing challenges in this life. 
Like this post? You can💰 me a ☕ at buymeacoffee.com/sponevolution 
Drawings credit @Alphachanneling on Instagram, website is https://alphachanneling.com/