Is Money The Root Of All Evil?
In the past few weeks I've had a few interactions with people who "hate money", consider it "evil", think it "creates greed, poverty, hunger". They see the cronyism and banking/political corruption and blame this on money. There is indeed plenty of corruption in the world and many systems that are more destructive than beneficial. But money itself simply is not one.
"Lack of money is the root of all evil" – George Bernard Shaw
The common thread among people who think money evil is they do not know what money actually is, on top of that many wish they had more, don't we all, but that's a separate issue. Hating money because you have none is like hating women because you can't get a girlfriend. Women ain't the problem, and there are steps you can take to improve your chances.
Money obviously does not cause wars, or famine and is not evil, money is an object, paper, or metal, or numbers on a screen these days, it is not conscious, and has no power over people. Of course people may lust after it and may rob or go to war in search of it, but that is the action of humans, not of money.
Money is simply a unit of exchange, it means I can exchange my labour after a days work for some paper, or these numbers on a screen, or Bitcoin in my wallet, which I can then exchange for food, rent, or whatever items my money can afford. I recently bought a fancy pipe lighter. I have no materials or skills to manufacture a pipe lighter, if I did, it would take me years to do so, so my life is much easier that I can merely exchange my labour for money, and then exchange my money for the pipe lighter. Money replaced barter so rather than me acquiring items that people selling the lighter might want in exchange, I could just send them money, its a means of exchange we both agree on. Click here for more in depth information on The Origin of Money or click here for The Essence of Money.

Tom Woods Interviews Chris Rossini about "Set Money Free"
These days Central Banks and governments decide what money we are allowed to use. The banking system destroys the value of our money by constant printing, the more money there is the lower the value, so if you have any savings in the bank, over time it will buy you less and less. So when we see people working all the hours they can to pay their bills, or heavily in debt, this is not the fault of money, there may be a number of factors involved, but what will play a role is inflation: prices rise when our wages do not, this is the greatest scam of central banking, and yet most people are totally unaware. What we need is a free market in money, a level playing field, not one set up to insulate elite bankers.
So what's wrong with the money supply?

So the problem is not money, the problem is who is controlling the money supply. A lot of people are angry that banks such as the Federal Reserve or Bank of England are privately owned. That they are privately owned is not an issue, everything else around us is privately owned, why not money? That the government forces us to use that private money with no competing currency to choose from is entirely the problem. If the government did not protect this monopoly money, we could have multiple competing currencies from many private banks, we could simply choose to use the ones that are most secure, reliable, that hold their value, perhaps backed by gold or Bitcoin for example. When there is competition in any product us consumers benefit, the more mobile phones we can choose from means we can find something in our personal budget and that suits our needs. The same goes for money, people could choose to use what they prefer, and this of course would leave any private banks competing for our business. Look at the crypto currency market, there are tens if not hundreds of crypto coins, some will survive, many will die off, but the ones that do survive are the ones that most people see as being secure and easiest to use. When there is choice, the consumer decides, not the government.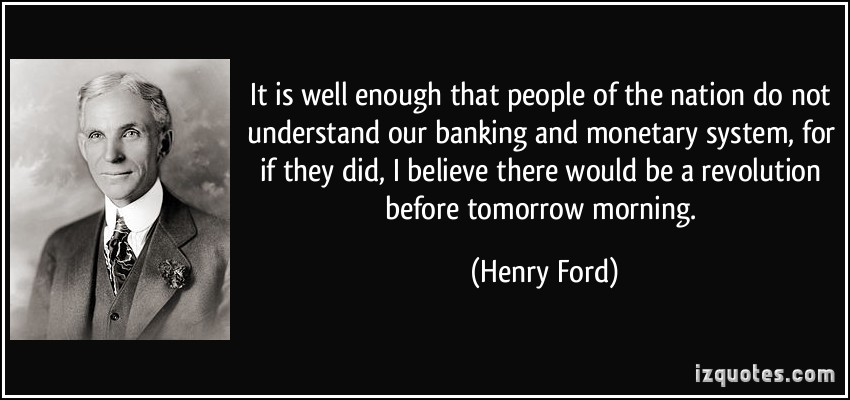 Bitcoin: 1DsAHkGWtEWJef679Gcc6rKPj6igxmfebK
There is a Free Four Week Meditation Course (click here for details) available through this site. Short guided meditations, suitable for beginners or experienced, the foundation of what I do every day, and have meditated for 23 years. Enter your email below an click to be added to the list.